Neutralizing Antibody (NAb) Assays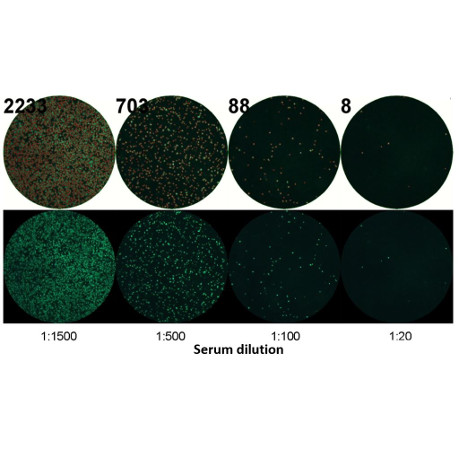 Our Neutralizing Antibody Assay Services
The antibody response is crucial for preventing viral infections and resolving of infections. When the body is infected with a virus, antibodies are produced against epitopes of multiple virus proteins. A subset of these antibodies block virus infection by a process called neutralization. These neutralizing antibodies (NAb) are not distinguished in standard immunoassays. Rather, they are measured in unique functional readouts called NAb assays. Our CRO team has established and validated diverse NAb assays for our clients, and we have an actively ongoing functional readout for detection of NAbs specific to SARS-CoV-2 (client specific-NAb assays, anti-SARS-CoV-2 NAb assays).
NAb microneutralization assays
Our team creates customized NAb assays for our clients in our BSL2 laboratory using microneutralization assays with relevant cell lines and pseudoviruses.
First, the selected GFP-tagged pseudovirus is combined with serum or plasma, where it is able to bind to and "infect" cells. The pseudo-infected cells express GFP and can be visualized and counted.
Next, we perform single cell enumeration on the pseudo-infected cells to determine whether NAb are present in the plasma/serum. If so, the NAb are neutralizing pseudo-infected cells, so GFP expression is in turn reduced. We then count the fluorescent cells and calculate percent neutralization.
This biological process is closely related to how NAb function in the body, and thus closely reflects the in vivo processes. These types of assays are critical in clinical trials, as NAbs can sometimes bind to biotherapeutic drug products and prevent them from performing their intended biologic functions.