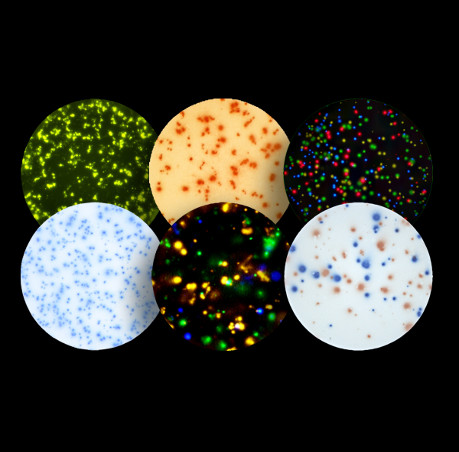 B Cell ELISPOT and Fluorospot Testing
Our immune monitoring expertise also extends to high-throughput B cell monitoring. The importance of B cell monitoring has become more evident in recent years with the complexities of measuring SARS-CoV-2 antibodies. Our team consists of B cell experts who have elevated the ImmunoSpot® platform to accurately and reliably measure B cell activities in double or four-color assays.
Why B cell ELISPOT?
Since serum antibody molecules have a relatively short half-life (days to weeks), their presence depends on ongoing production by B cell-derived plasma cells.

During the course of an immune response:
Naïve, antigen-specific B cells become activated by their antigen and CD4 T-helper cells specific to that antigen
After activation, these naïve B cells differentiate into plasma cells that produce antibodies
Long-lived memory B cells begin to emerge at this time
If antigens and T-helper cells are present, these mature memory B cells differentiate into new generations of plasma cells
If the antigen is not present, the plasma cells will continue to spontaneously secrete antibodies
In either case, the presence of antibodies in serum results from an active, ongoing antibody synthesis process, which may or may not reflect previous antigen exposure. For example, after certain vaccinations human donors tend to become seronegative over time and may require booster immunizations. Other vaccinations produce lifelong antibodies, even after the infectious agent has been cleared.
Determining which of these scenarios applies to antigen-specific B cell immunity is complex, but possible. We and others have found that directly detecting memory B cells from PBMC reveals any preexisting immunological memory to the newly induced B cell immune response.
Our CRO team can expertly perform these antigen-specific plasma B cell or memory B cell antibody secreting cell evaluations, which are so vital for basic research, drug discovery, and management of diseases. Please review our list of available
B cell ImmunoSpot® kits
. All of our kits are available to be used by our contract laboratory for your studies.