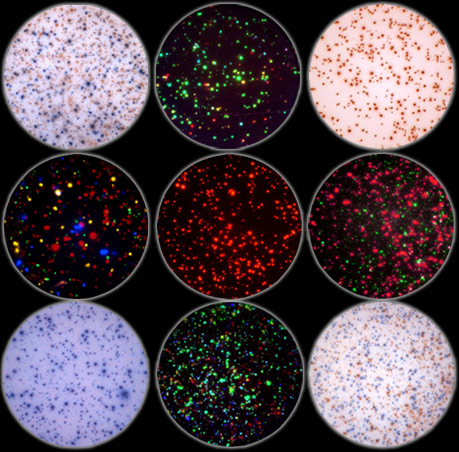 Leaders in T cell ELISPOT Assays and Testing
As pioneers and leaders in cellular immune monitoring (CMI), one of our greatest strengths lies in high-throughput T cell monitoring capabilities and world-class ELISPOT (Enzyme-Linked ImmunoSpot® Assay) expertise.

With decades of experience performing contract research, many pharmaceutical and biotechnology companies have entrusted us with evaluating test subject responses to their vaccines, drugs, and biological products using our ImmunoSpot® technique.
Interferon (IFN)-gamma T cell assays
The ability to measure T cell antigen response is vital for basic research, drug discovery, and management of a range of important diseases. ELISPOT testing is particularly useful in areas when it is necessary to measure low-frequency T cell responses for the ex vivo readout of immune responses.

Having single-cell resolution T cell readouts is critical for better understanding and treatment of allergies and autoimmunity, predicting rejection/acceptance responses in organ transplantation, improving drug and vaccine development, monitoring various cancer treatments, and more.

The ELISPOT/ImmunoSpot® technique generates single-cell, secretory footprints in the form of colored spots within a 96-well plate. These images can then be scanned, counted, and readily evaluated for statistical significance using our ImmunoSpot® analyzers.

The method can determine whether a patient/sample population responds positively or negatively to a vaccine, drug, or biological product and, in addition, measure the extent of each person's immune response. It opens the door for other means of data evaluation, such as:
Testing T cell-mediated immunity at a single-cell level for pre-clinical and clinical specimens
Determinant mapping with overlapping peptides
Measurement of cytotoxic T cell responses
The ability to run multiple assays using a limited number of cells/specimens
High-throughput testing capacity (~150 specimens per day, ~450 specimens per week)
Our expertise (
see publications
) encompasses a wide range of assay types, thanks to our years of experience in working with clients to optimize, qualify, and validate test methods for various test systems (e.g. human, NHP, monkey, mouse, rat, pig). Please see our list of
T cell ImmunoSpot® kits
, as they can be used by our contract laboratory for your investigations.